Dog House Plans - Police Dog Houses
During these uncertain times with Covid 19 all over the world Dog House Plans wishes everyone to stay safe. We also think this would be a great time to build your dog or dogs a beautiful new dog house.
Police Dog Houses are dog houses made from K-9 Law Enforcement dog house plans and now these dog house plans are available to the general public in various sizes and models.

Dog houses made from our plans are in use by K-9 police professionals around the world. These are people who rely each day on durable quality housing for their valuable working dogs. We have been in business for 35 years and have built numerous dog houses. These police dog house plans are the final result of years of response to feedback from police K-9 handlers, veterinarians, and K-9 owners. That is why so many people have come to depend on these proven police dog house building plans. Now private owners too can benefit from our experience. Build the same police dog house for your pet using our dog house plans.
1 Dog/1 Door Deluxe Dog Houses
Dog House Plans - Trusted and Proven Dog Houses
Our police dog houses were designed in consultation with veterinarians and police K-9 handlers to meet the needs of a wide range of dogs and owners. Over the years, we have built dog houses with barn and peak style roofs. Building dog houses with these styles of roofs is an ideal place for wasps, hornets, and other types of insects or animals to congregate and build their nests. When using these styles of roofs, you will not have an inside wind wall which protects the K-9's in cold and windy weather, and their will also be a large amount of heat loss. It is also not designed with the handler in mind when it comes to cleaning.

This is why our police dog house plans have a slightly sloped roof, that is on hinges, which makes cleaning and accessibility to the inside of the dog house very easy. All police dog houses have a removable wind wall for the comfort of your K-9's. This removable wind wall is designed for the correct size of your K-9's in order for the K-9's to be able to heat the sleeping area with there own body heat. Our police dog houses are used by police in housing all kinds of highly trained canines in areas such as bomb detecting, narcotics, and forensics, as well as search dogs for tracking and crowd control. Many city police departments, Ontario Provincial Police, State Police, Fire Marshals, Natural Resources, Border and Customs Officers, and Private Security Agencies, use our police dog houses. Whether you have a professional service police K-9 valued at thousands of dollars or, a working dog, hunting dog or herding dog, or a family pet who watches over the yard, this would be the best and most proven dog house that you could have, to protect your K-9 in all weather conditions.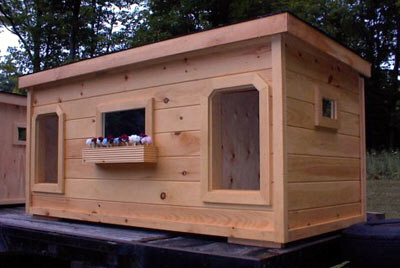 Dog House Plans - Dog Houses Suitable for all Climates
Our police dog houses are presently in use throughout many different countries all over the world, such as Australia, the United Kingdom, Canada, Europe, and across the United States. These dog houses has been proven suitable in any climate. These police dog houses can be adjusted to match the weather condition of where you are located. In areas where the summers are hot and humid, raise the hinged roof to let the warm air out and draw the fresh air in, while still providing your K-9's with a comfortable area of shade. This small task creates ample air flow for your K-9's and even though the roof is raised, this cannot be detected if you're looking at the dog house. The K-9's will still be able to get on top of the roof, when it is raised, without causing any harm to the structure.

In the cold winter months, insert the wind wall, and lower the roof. The wind wall breaks the wind and creates a smaller space inside the dog house that your K-9 or K-9's can easily warm with there own body heat. It is imperative that your dog house is sized to match your K-9 's, so he or she sleeps in a space small enough that he or she is able to heat.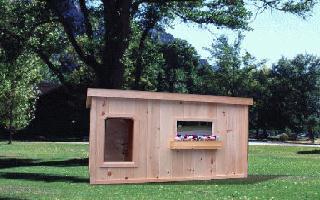 3 Dog/ 1 Door Deluxe Dog Houses
Dog House Plans - Construction of the Police Dog Houses
A dog house has to be structurally sound to protect your K-9's. Our dog house plans have the houses slightly elevated off the ground, keeping the floor safe from moisture. The hinged roof opens and closes easily, so cleaning the inside is quick and simple. You can use paint or stain to protect the outside. The roof is slanted, so water drains away on rainy days, but is still flat enough, so that your K-9's can keep watch, or take a nap on top of the dog house, when the weather is suitable.

These dog houses are fully insulated on the floor, roof and walls. It is constructed like a house you or I would live in. Once completed, this beautiful dog house will last for many many years. This will most likely be the last dog house you will have to build.

All our police dog house plans come with the instructions for an optional outside kennel attachment. If you already have an existing kennel, these plans allow you to attach the dog house to the outside of the kennel. Using this method you will still give your K-9's the full use of the kennel area, and also allow them to have the best dog house available. Connecting the dog house to an existing kennel is easy.

No special woodworking skills are required to build from these police dog house plans. A few common tools are all you will need. With a hammer, square, handsaw (or skillsaw), a jigsaw, and a drill, you will have all the tools you need to construct your dog house. Paint or stain the outside whatever color you or your K-9's would like, or, build the deluxe version and surround the outside of the dog house in attractive tongue and groove pine, for the look of a stained, natural wood exterior. Step by step instructions for building both the regular dog house and the deluxe dog house are included with each set of police dog house plans, for the size and model you choose.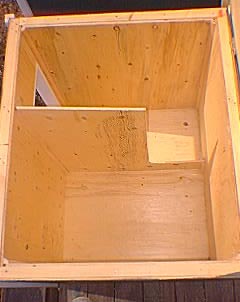 How Many Dogs Do You Have?
Our 2 dog and 3 dog house plans arose from the requirements of K-9 police handlers who needed more than one K-9 with different skills for different kinds of work, yet wanted to keep the dogs in one place. The 2 dog/1 door dog house, and the 3 dog/1 door dog house designs have the same removable wind wall as our 1 dog/1 door dog house.

Due to the fact that not all dogs get along, you may want to keep your dogs separated. This is where the 2 dog/2 door dog house plans are the answer for you. This model has two doors and a removable wind wall for each K-9, with an additional center partition wall to keep the dogs separated. This center wall is also removable in case your dogs solve their dispute or you want to house a different pair of dogs in the future.

All 2 dog or 3 dog police dog house plans have the same insulation, hinged roof, and the other features as our 1 dog/1 door model.

So, if you have one, two, or three dogs, these versatile tested and proven dog house plans are what you require to meet both your needs and your pets needs.
"The most used police dog houses in the world"
Do you have special requirements for your pet's house? Do you need custom dog house plans drawn? At present we have designed houses for pot bellied pigs, goats, tortoises, cats, chickens, Mini Horses,etc.
Click Below
Police Dog Houses
is pleased to present "Molly" from Michigan with her new dog house!
Featured Customer Completed Dog House
Use our easy to follow dog house plans to build a tested and proven house!
To see more beautiful customer completed dog houses click here.
Dog House Plans - "Buyer Beware List"
With our 35 years of experience and knowledge of dog houses we have compiled a list of things to for you to look at before you purchase any dog house plans. This list will help you decide where you should purchase your dog house plans. We call it our "Buyer Beware List" and hope this will give you some of the knowledge we have acquired over the years.
"I am so happy that you started to sell these dog house plans. I purchased the dog house plans and built the dog house. I am a police officer, not a carpenter, and I had no experience building. I followed the directions and the dog house came out beautiful, and now my K-9 partner loves his new dog house too." Thanks, Daniel from Florida , USA
Each set of dog house plans is $29.99 (US Currency) and includes shipping and handling.
Dog House Plans
| | |
| --- | --- |
| USA Website (You are here) | |
"Don't Delay, Give your Pets the Comfort They Deserve Today"
© Copyrights Reserved by Police Dog Houses.com